Call of Duty: Black Ops 3 – Weapon Paint Shop Experience
The Brief
Spray Paint Wall was approached by Activision's Call of Duty (COD) and asked to provide a customised interactive exhibit to allow visitors to E3 the chance to try out the new COD Weapon Paint Shop feature before its launch later this year. The Weapon Paint Shop feature will allow COD players – for the first time ever – to design their own weapon camouflage with up to 64 layers of complexity. They will then be able to save the designs into their own armory and share them with friends.
Activision, the company behind COD, wanted the demo experience at E3 to be as close to the in-game functionality as possible, including the use of game-specific assets. They also needed to encourage and maximise the chances of visitors sharing the experience of the Black Ops Paint Shop across their own social channels.
The Solution
Spray Paint Wall presented numerous demo videos to show the client in the US to show precisely what visitors at E3 would experience when using Spray Paint Wall. To replicate the final product as far as possible, Activision extracted the artwork directly from the COD Black Ops game – allowing Spray Paint Wall to feature the exact weapons, camos, and emblems from the game itself. Because of the length of time in extracting the artwork from the game, Spray Paint Wall had to integrate the assets in less than a week.
Spray Paint Wall also prepared visuals of the stand in advance so that the contractors on site could build the framework and create graphics.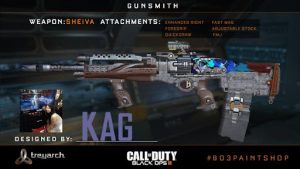 Experts in social media marketing, Spray Paint Wall dealt with the client's request for social sharing by implementing a number of their existing social media sharing platforms into the COD Black Ops interactive Spray Paint Wall. Using the Instagram feature, visitors could instantly upload an image of themselves taken on their own device using the hashtag #BO3PAINTSHOP. The visitor then placed their picture next to the gun they had designed and were able to sign it using the touch screen personally.
Spray Paint Wall also provided devices on-site for those guests without Instagram so they could still get an image of their weapon.
In return for sharing their weapon designs on Facebook, Twitter, and email directly from the interface, visitors were given an instant printout of their custom weapon, which included the BO3 hashtag, picture, and signature.
The Result
Over the three days, the COD exhibition stand allowed almost 600 visitors to create and personalise their own Call of Duty Black Ops III weapons in the Paint Shop using Spray Paint Walls. The hashtag BO3PAINTSHOP was used over 200 times on Instagram, and roughly 85% of those who created their own weapon shared their creation, including the hashtag, personal image, and signature on Twitter and/or email.
A spokesperson from Activision said, "A big thanks to the Spray Paint Wall team. Execution went flawlessly, and fans (and clients) really loved it".