Coca Cola Fifa World Cup – Digital Graffiti Bottle Design
The Brief
Football's most coveted trophy embarked on its longest-ever world tour in the run-up to the 2014 FIFA World Cup™, giving more than a million fans the opportunity to see it up close. In the UK it came to Wales, England and Scotland between 12 and 18 March 2014. As the official Tour partner Coca Cola wanted to find a way for the public to get involved, interact with their brand and provide a creative activity for guests.
Coca Cola's Key Objectives:
Create brand and product interaction
Provide a branded gift for each member of the public to take away as a memento of the experience and
To drive traffic to its CokeZone website
The Solution
Created Brand I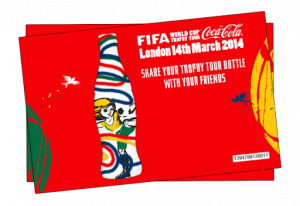 nteraction: Spray Paint Wall was morphed into a product design tool. We created a Coca Cola housing with branding to all sides, a Coke interface and only Coca Cola colours for the spray options. We even created customised stencils of footballs, football boots and even the World Cup!
Provide a physical Gift as a memento: Each member of the public using the wall was given a branded photo print as a memento of the experience.
To drive Traffic to the CokeZone Website, each of the prints carried a call to action so that visitors to the activation were directed to the CokeZone website to share their photo, where we could track website statistics.