Ripley's Believe It Or Not – London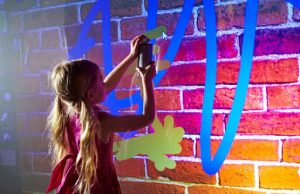 The Brief
Ripley's wanted to create an interactive installation in their London Museum that could link in with their Berlin Wall exhibit to capture the interest of passing customers and keep customers entertained for longer.
The Digital Graffiti Wall must be able to show Ripley's digital branding and logos and also have custom background images, covers, stamps and stencils.
The Solution
Spray Paint Wall have teamed up with Ripley's Believe it Or Not to install our system. Budding graffiti artists can let their creativity run wild with the Spray Paint Wall installation at Ripley's Believe It or Not London. Sitting alongside a huge piece of the Berlin Wall the capital's most bizarre attraction unveils the first in a series of new interactive exhibits. Visitors will be able to see the Berlin Wall covered in graffiti and then digitally create their own graffiti onto the Spray Paint Wall immediately adjacent to the Berlin Wall! Awesome!!
Like all of our digital graffiti products you can share the finished artwork to Facebook, Twitter and even Email. Next we will install instant printers to allow visitors to receive an instant print of their artwork.
The Result
Natascha Crump, general manager, Ripley's Believe It or Not! London, comments:
"This new interactive exhibit is the perfect addition to the attraction, not only can visitors enjoy getting creative and showing off their works on social media but by engaging with the wall we are bringing a piece of history to life. Graffiti has long been an expression of rebellion and an assertion of personal freedom. Perhaps there is no more triumphant realisation of that expression than the symbols scrawled on these toppled fragments of the Berlin Wall. In homage to what was the world's largest free canvas, and as London's most bizarre visitor attraction, we're excited to open our own interactive graffiti wall."
The new interactive wall is the first of over 13 new interactive features and gallery enhancements to be added to the attraction over the next 12 months. A series of new exhibits, new technological interactive advancements and a gallery refurbishment will add to the visitor experience.