Vauxhall Adam Launch at Arnold Clark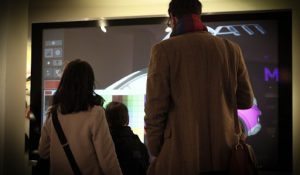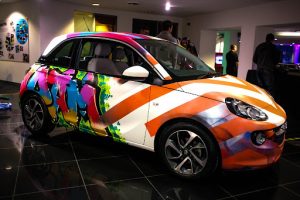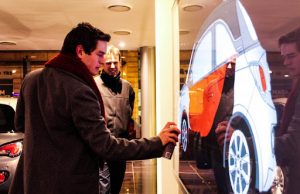 The Brief
The Spray Paint Wall travelled up to Glasgow last night for the launch event of the NEW Vauxhall ADAM at Arnold Clark.
This was not any ordinary launch event… Arnold Clark had invited the guys from the Recoat Gallery to do live graffiti demonstrations in the showroom. The Recoat artists created some great pieces on the walls of the showroom but at the centre of attention the live work on a Vauxhall ADAM. The artists sprayed over a vinyl wrapped ADAM and worked on it during the event creating an amazing design.
The Solution
The Recoat guys also took a timeout from their work to come and use the Digital Graffiti Wall. We wanted an expert opinion on how it compared to the real thing! A Recoat artist said: "It is great, the way it feels makes it almost natural for graffiti artists to use and come up with some amazing designs. It took a couple of minutes to get used to the technology but apart from that is it spot on!"
The Result
Our Digital Graffiti Wall was used to let the guests at the event have their own attempt at graffiti (without making a mess in the showroom).
We used the full screen stencil that we created of the Vauxhall ADAM and guests used the Digital Graffiti Wall and Digital Cans to create their own designs.
Using various colours and brushes the guests could fill in sections of the car within the stencil without going over the edges creating a nice clean and fun looking design. The branded logo was also added for greater brand awareness and the designs were also printed for the guests to take home with them and also a collage to be made at Arnold Clark.
Towards the end of the event a raffle was taken to win various amazing prizes, the top prize being able to drive the new Vauxhall ADAM for a year for FREE!